By @DiscreetLatino                                                                   Linguistics • Technology • Pokémon • Music • NY • Illustration • Gaming • Politics • Emoji • Films • Beyoncé • Superheroes • TV • Humor • Buffy • Flan
January 23, 2013
A week in cellular data.
December 26, 2012
How to Spend Your Holiday Cash, Gift Cards & Exchange Credit (Gadget Edition)
Have the bad gift givers in your life have bestowed upon you gift cards, cash, or poorly chosen presents that are dying to be returned? If so, what should you get yourself with your newfound purchasing power? Well, if you're in the mood for a bit more plastic, glass, and silicon to ring in the new year, here's a list of the best gadgets in a few categories.
Best Ultrabook: TIE! Apple MacBook Air (starting at $999) or Samsung Series 9 (starting at $1,299)
Best Luxury Notebook: Apple MacBook Pro with Retina 15" (starting at $2,199)
Best All-in-One Desktop: TIE! Apple iMac (starting at $1,299) or Dell XPS One 27 (starting at $1,399)
Best Full-Size tablet: Apple iPad 4 (starting at $499)
Best Compact Tablet: Google Nexus 7 (starting at $199)
Best E-Ink Reader: Amazon Kindle Paperwhite (starting at $119)
Best Flagship Smartphone: Google Nexus 4 (starting at $199 w/ two-year contract)
Best Budget Smartphone: HTC Windows Phone 8X (starting at $99 w/ two-year contract)
Best Connected TV: This category isn't ready for prime time. Hold off for now.
Best Connected TV Box: TIE! Apple TV (starting at $99) or Roku 2 XD (starting at $79)
Best Personal Media Player: Apple iPod touch 5 (starting at $299)
Best Gaming Console: Nintendo Wii U (starting at $299)
Best Portable Gaming Console: TIE! Nintendo 3DS (starting at $169) or Apple iPod touch 5 (starting at $299)
December 12, 2012
$349 for a Sparkly Back Plate with a Phone Attached to It; or: The Most Rewarding $349 I've Ever Spent (a Nexus 4 Review)

It has been three weeks since I received my Google Nexus 4, a worthy replacement to my Galaxy Nexus. Although the phone has been exhaustively reviewed throughout the past month, this review recounts my experience of using Nexus 4 as my only phone for three weeks rather than just expectations and initial impressions.
What is it?
Nexus 4 is Google's flagship smartphone for 2013. As a Nexus device, its purpose is threefold: a template for OEMs —like Samsung and HTC—to base future Android handsets on, the default phone for developers to test their apps so as to ensure maximum compatibility across the platform, and a pure Google device for Android enthusiasts to enjoy first-run OS updates and freedom from OEM skins. Additionally, the Nexus 4, like the Nexus 7 before it, invites a fourth user type that wasn't interested in the Nexus line before Q3 2012: anyone who wants the best deal in smartphones.
Why would I want one?
First off, it's incredibly affordable. Off contract and unlocked, the phone sells for $299 for a model with 8GB of built-in storage and $349 for 16GB. That is entirely unheard of in the realm of flagship smartphones. Once it's yours, you have many options as far as contract-free prepaid plans that can save you hundreds of dollars a year without tying you to a single carrier (I'm paying $30/month for unlimited text and web and 100 minutes on T-Mobile). Nexus 4 with 16GB is also available on contract for $199 through T-Mobile, but I advise against getting it that way.
Next, it's gaw-geous. The front and back glass plates, while begging questions of their durability, deliver the same elegant industrial feel of iPhone 4 graced with the hallmark curves of the Nexus line. Depending on how the light hits it, the Nexus 4's glass back plate can be either a glossy jet black or a mesmerizing yet tasteful array of silvery or golden —depending on the light source— orbs. I've spent a lot of time just staring at the back plate, tilting it in the light. It's the simple things.
Finally, the performance is incredible. Apps open and switch quickly and smoothly. Scrolling through GIF-heavy Tumblr pages won't leave you waiting. The display is large, bright, and crisp. Internet connectivity is surprisingly fast on T-Mobile's HSPA+ 42 network (more on that below). Despite all this, the battery still gets me through the day with moderate-to-heavy use (Angry Birds will still suck it dry, of course).
What else does it do?
Like any flagship smartphone nowadays, Nexus 4 has an HD (720p) display, decent 8MP rear-facing camera, a less impressive front-facing shooter, decent graphics performance, WiFi, Bluetooth, NFC, and some form of 4G network connectivity. However, there are some areas where it stands out:
• Nexus 4 is one of the first smartphones to have both a quad-core processor and 2GB of RAM. Combine that with performance afforded by Jelly Bean's Project Butter and the absence of OEM add-ons, and you have what's probably the fastest phone ever. The difference is immediately noticeable, and persistently impressive. I'm still impressed.
• The display is large, bright, crisp, and color-accurate. A thin bezel keeps it from making the phone unwieldy. I find it much nicer than the cramped displays on iPhones and the less sharp, oversaturated displays on Samsung phones.
• Nexus 4 is lighter than it looks and thinner than you'd expect, and features a rubberized edge to make it easier to hold what could otherwise be a slippery handset. The rubbery edge doesn't wrap around to the front, so the phone slides right into your pocket.
• Google Now puts Siri to shame as a digital assistant. In addition to answering your spoken and typed questions and executing requested tasks, it displays how long it will take you to get to work, when your flight leaves, how cold it is outside, when the next N train arrives, and nearby restaurants and events — all without you asking.
• The stock camera app's Photo Sphere feature allows you create your own interactive Street View-style images anywhere, though it is difficult to composite a sphere without image tearing.
Why does the name sound so familiar?
In addition to the hype normally surrounding the release of Nexus devices on tech blogs like Engadget and Gizmodo, there has been a lot of controversy regarding the Nexus 4. First, before it was even released, many tech columnists dismissed it due to its lack of LTE, or true 4G connectivity. That said, having switched from the Galaxy Nexus with Verizon's 4G LTE network to Nexus 4 on T-Mobile's "fauxG" HSPA+ 42 network, I'm experiencing consistently faster downloads throughout New York City, albeit slower uploads. The latest Instagram update weighed in at about 15MB and took me less than 1.5 seconds to download. And it's worth noting that the Nexus 4 was found to have a dormant LTE chip that, when awoken, seems to work in a handful of US markets and throughout Canada.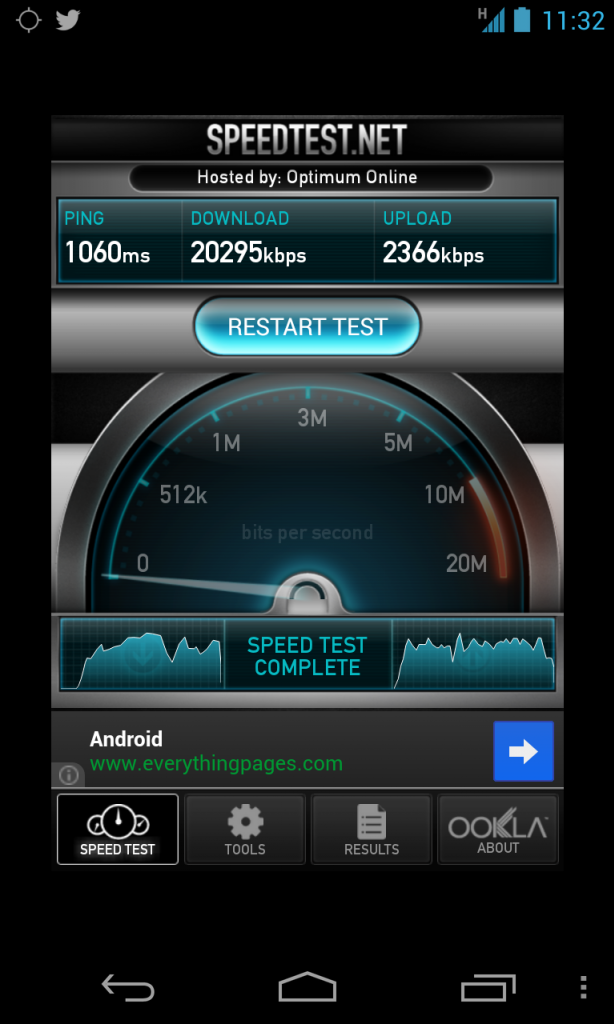 The second round of complaints started on its initial online release date, when potential buyers faced many errors attempting to order it through Google's Play Store. Google's less-than-popular online store for physical merchandise simply could not handle the influx of shoppers trying to be the first to get their hands on Nexus 4. Most were unable to complete their order, and the majority of buyers lucky enough to score a confirmation were later sent emails alerting them that their handsets could take up to three weeks to ship. I received mine two weeks and one day after placing my order.
At the time of writing, the Nexus 4 is still difficult to come by. The 16GB model is listed as shipping in 6 to 7 weeks, while the 8GB model is simply sold out. Virtually no T-Mobile stores have it in stock, and vendors on eBay and Craigslist are charging more than double retail for Google's unicornphone.
Also, Nexus 4 is a 2008 single by Japanese rock band L'Arc~en~Ciel.
Is there anything you don't like about it?
Nexus 4 is not without its faults. As I mentioned earlier, its glass front and back plates make it all the more likely to shatter if it takes a tumble. And the slickness of these glass plates make it more likely to slide off a table. While mine hasn't cracked yet after a few falls to the floor, I live in constant fear of it. It's perhaps for this very reason that Google made a bumper for it (which might even be in stock when you go to buy it).
Another quirk about its design is that it creaks when you squeeze the bottom center of the phone with your thumb and forefinger. That said, I found that out by poking and prodding, not through casual use.
As for cellular connectivity, using Nexus 4 with T-Mobile affords me more consistent data connectivity in NYC (my Galaxy Nexus on Verizon never reached the same speeds with LTE and often dropped to 3G when moving around indoors), but there are some places deep in buildings where I used to have voice service that T-Mobile simply doesn't reach, such as the basement at my workplace and the far ends of a few bars I've been to.
What would you want the people who simply scrolled to the bottom of this review to take away?
The Google Nexus 4 is a solidly performing, beautifully engineered phone with an unbeatable price. It features a large, sharp display that gives you quick access to the info you need through services like Google Now, Maps, and Search. Its front and back glass plates make it less durable than other phones, so a protective case is a good idea. LTE will be a big deal, and Nexus 4 lacks it, but given Verizon's speeds and AT&T and Sprint's coverage, LTE is not there yet. T-Mobile's HSPA+ 42 network will currently give you the most consistently fast speed nationwide on any handset.
If you can find one, get one.
November 27, 2012
Android PSA: Nexus 4 Back on Sale Right Now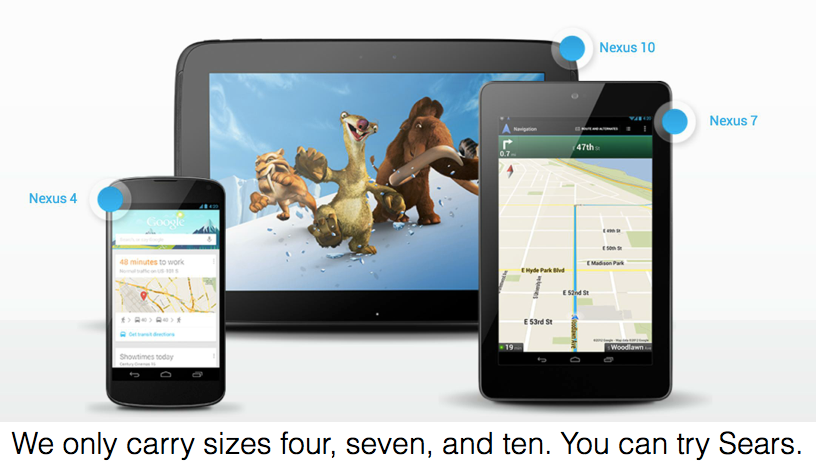 You should be able to order Nexus 4 on the Play Store now. Good luck on when you'll get it, though. I placed an order minutes after it went live two weeks ago and mine is suppose to ship sometime this week. I can't wait to accidentally shatter its gorgeous, fragile front and back glass panes shortly after receiving it.
November 27, 2012
Two Weeks with Nexus 4
.
..
…
….
………………………………………..it still hasn't shipped.
November 13, 2012
Woops.
November 8, 2012
Happy 165th birthday, Bram Stoker!
Side note: Dracula bears the distinction of being the first ebook I've ever read.
September 21, 2012
Forecast mobile trends.
September 21, 2012
September 12, 2012
30 Rock rocks Google Docs