By @DiscreetLatino                                                                   Linguistics • Technology • Pokémon • Music • NY • Illustration • Gaming • Politics • Emoji • Films • Beyoncé • Superheroes • TV • Humor • Buffy • Flan
August 22, 2012
The first rule of Toddler Fight Club is…just don't.
(via hipstercircle)
August 21, 2012
11 Years of Tax-Subsidized Racism and Nothing to Show for It
Surreptitiously founded in response to the 9/11 attacks, the NYPD's Demographics Unit (the most brazen lexical propaganda I've heard since 'infiltrators') has been spying on Muslims in schools, cafes, mosques, and homes, justified by the probable cause of their being Muslim.
So, after over a decade of questionably legal invasion of privacy funded by your tax dollars, what does the NYPD have to show for it? Absolutely nothing. The actions of the Demographics Unit have led to no leads or arrests in terrorism cases.
August 14, 2012
July 17, 2012
Man with World's Longest Penis Frisked over Suspicious "Package"
Jonah Falcon, of Brooklyn, weighs in at just over a foot, which I imagine could be quite conspicuous for trained airport security personnel — even when stowed away. One guard went so far as to ask him if he had "some sort of growth."
July 12, 2012
Responses to Romney's NAACP speech, in which he announced, "If you want a president who will make things better in the African-American community, you are looking at him."
(Source: ro-s-aspa-rks, via kaleidonope)
June 27, 2012
This is sobering me right up.
(Source: votepsl, via domesticterrorism)
June 5, 2012
Indiana Church Where Child Sang Anti-Gay Song to Wild Applause Prohibits AC360 from Property
Take a good look at the church's name, and pretend to be surprised that they a) teach children to hate, and b) shoo away the gotcha liberal media.
Also: Dumbledore lives! @ 1:23
May 31, 2012
Um.
(Source: werivalourcreation, via shimmerpxy)
May 26, 2012
Who Has Two Thumbs, a Teenage Husband, and No Moral Standing? This Bitch.
As the country locks up its own artists and lets the majority of its population go poor, Morocco offers such performers as Mariah Carey and Lenny Kravitz (whoever that is) cash withheld from social services —which the stars (and Lenny Kravitz) gladly accept— to perform at the yearly state-sponsored Mawazine international music festival.
May 24, 2012
Anderson Just Can't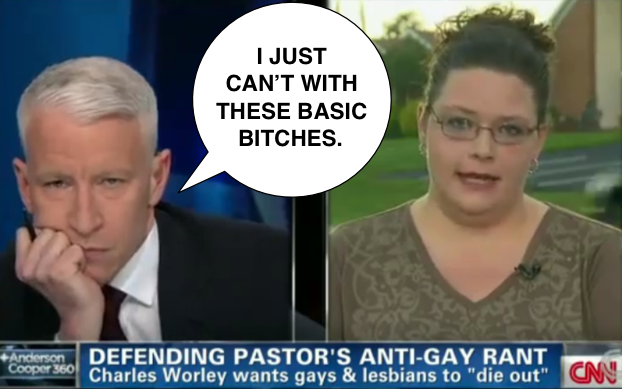 Listen to a parishioner straddle her defense of Pastor Charles L. Worley's electric fence sermon, and watch Anderson struggle to keep a straight face.